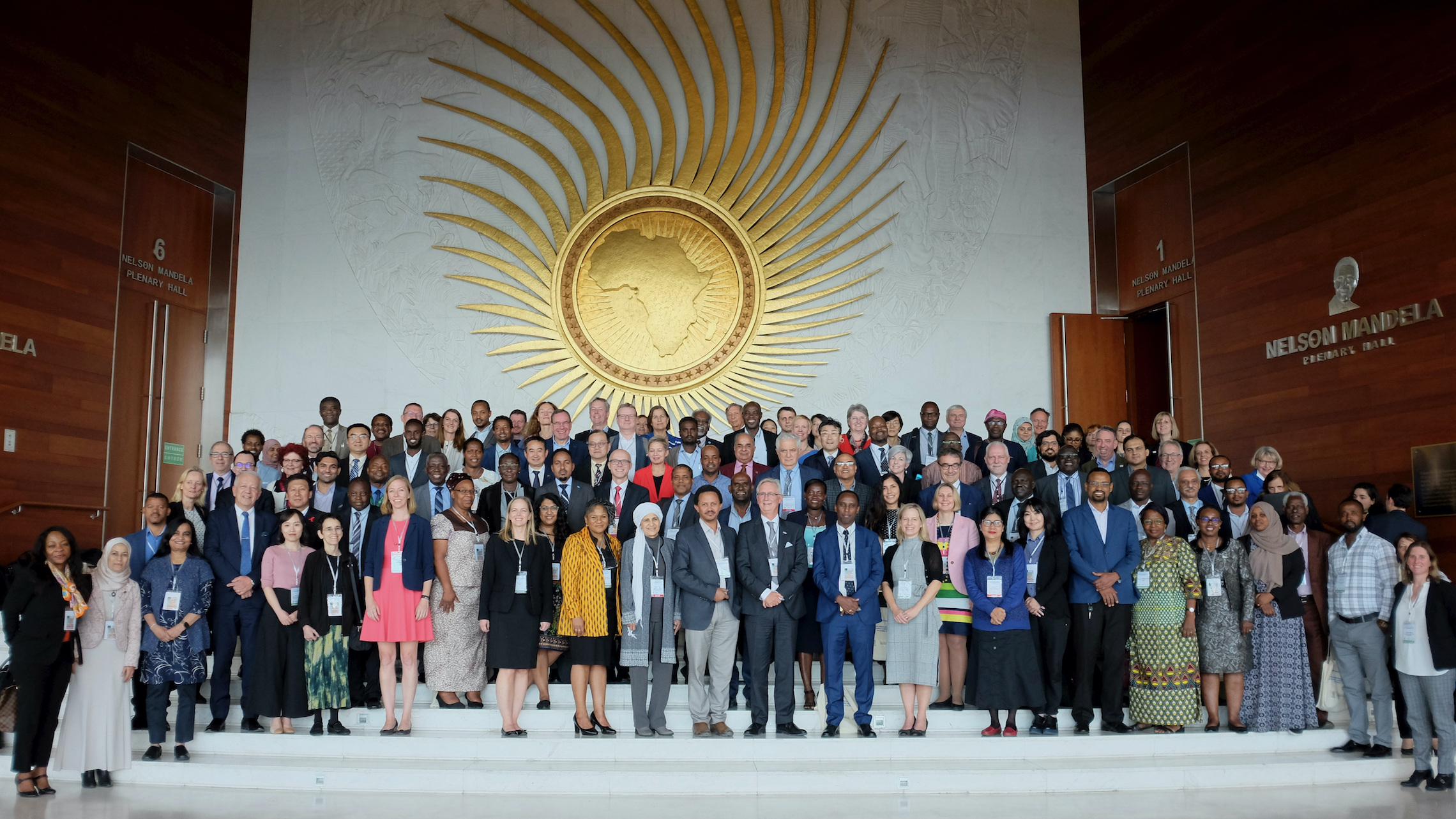 Presentations from 2019 Annual Meeting
---
View the detailed Annual Meeting 2019 agenda
Impact of National Public Health Institute in the Health Development of a Nation: experience from Ethiopia
Moderator: Andre van der Zande, President, IANPHI
Eduardo Samo Gudo, Deputy Director General, National Institute of Health, Mozambique
Perspectives on Developing and Strengthening NPHIs in Africa between 2017-2019
Moderator: Ario Alex Reiolexus, Director, Uganda National Institute of Public Health
"The Creation of an NPHI, change management and adaptation in the African Context," Herve Hien, Director, NPHI Burkina Faso
"NPHI Evolution in Strengthening Surveillance," Natalie Mayet, Deputy Director, National Institute for Communicable Disease, South Africa
"Development of Nigeria CDC," Joshua Obasanya, Director, Prevention and Programs Coordination, Nigeria
"Linking NPHI Development with Global Health Security in Africa," Nancy Knight, Director, Center for Global Health Division of Global Health Protection, U.S. CDC, USA
Piloting Approaches to Building NPHI Capacity: Strengthening National Accountability and Preparedness for Global Health Security (SNAP-GHS)
Moderator: Neil Squires, Director of Global Public Health, Public Health England, United Kingdom
"Perspectives from the SNAP-GHS Partners," 

Joshua Obasanya, Director, Prevention and Programs Coordination, Nigeria Centre for Disease Control, Nigeria
Faheem Tahir, Principal Scientific Officer, Public Health Laboratories Division, National Institute of Health, Pakistan
Ebba Abate, Director, Ethiopian Public Health Institute, Ethiopia

Ebere Okereke, Consultant in Global Public Health, Public Health England United Kingdom
Meerjady Sabrina Flora, Director, Institute of Epidemiology Disease Control and Research, Bangladesh
Intersectoral Collaboration for Disease Prevention and Health Promotion: how do NPHIs work with stakeholders?
Moderator: Felix Rosenberg, Director, Itaborai Forum: Politics Science and Culture in Health, Oswaldo Cruz Foundation, Brazil
"Informed Health Choices: teaching children and young people to assess claims and make informed choices," Camilla Stoltenberg, Director, National Public Health Institute, Norway
"Actions to Address Calories, Sugar, Tobacco and Engagement with Stakeholders Including Industry:"
Africa CDC: NPHI development in Africa
Moderator: Andre van der Zande, President, IANPHI
H.E. Mrs. Amira Elfadil, African Union Commissioner for Social Affairs
Dr. John Nkengasong, Director, Africa Centres for Disease Control and Prevention
Fragmented Health Systems: the role of NPHIs in promoting synergies and balance across universal health coverage, health security and health promotion
Annual General Assembly
Jointly Chaired by Andre van der Zande, President, IANPHI and Meerjady Sabrina Flora, Vice President, IANPHI
How Can IANPHI and WHO support NPHIs in Strengthening Public Health Systems Through Partnerships?
Moderator: Jean-Claude Desenclos, Secretary General, IANPHI
Working Session on Universal Health Coverage
Moderator: Anne Bergh, Director for Global Health, Norwegian Institute of Public Health, Norway
Addressing Health Emergencies
Moderator: Neil Squires, Director of Global Public Health, Public Health England, United Kingdom
Promoting Healthier Populations
Moderator: Jean-Claude Desenclos, Secretary General, IANPHI
Antimicrobial Resistance: global and regional initiatives projects
Moderator: Victor Munyongwe Mukonka, Director, Zambia National Public Health Institute
"Africa CDC Efforts to Control Antimicrobial Resistance and Advance One Health," Jay K. Varma, Senior Advisor, Africa CDC
"ICARS, the International Centre for Antimicrobial Resistance Solutions," Per Henriksen, Former Chief Veterinary Officer, Senior Consultant, ICARS, Denmark
"The African Network for Improved Diagnostics, Epidemiology and Management of Common Infectious Agents (Andemia)," Angela Fehr, Senior Researcher, Robert Koch Institute, Germany
Influenza - 10 years after the H1N1 pandemic, are we prepared for the next Influenza pandemic?
Moderator: Paul Cosford, Emeritus Medical Director, Public Health England, United Kingdom
Fernando de Almeida, Chairman of the Executive Board, National Institute of Health Dr. Ricardo Jorge, Portugal 
Georges Alain Etoundi Mballa, Director of Disease Control, Ministry of Public Health, Cameroon
Bashiruddin Noormal, Director General, National Public Health Institute, Afghanistan
Felix Rosenberg, Director, Itaborai Forum: politics, science and culture in health, Oswaldo Cruz Foundation, Brazil
Natalie Mayet, Deputy Director, National Institute for Communicable Diseases, South Africa
Minwon Lee, Director General, Center for Public Health Emergency Preparedness and Response, Korea
CHAMPS Child Health and Mortality Prevention Surveillance: data to action at multiple levels
Moderator: Ellen Whitney, Director, IANPHI US Office, USA
Elizabeth Oele, Medical Epidemiologist, Department of Health, Kisumu County, Kenya
Eduardo Samo Gudo, Deputy Director General, National Institute of Health, Mozambique
Meerjady Sabrina Flora; Director; Institute of Epidemiology, Disease Control and Research; Bangladesh
Financing NPHIs
Moderator: Annemiek von Bolhuis, Deputy Director General and Director of Public Health and Health Services, National Institute for Public Health and the Environment, The Netherlands
"Sustainable Investment in Health: a case study from Wales," Quentin Sandifer, Executive Director, Public Health Wales, United Kingdom
Myriam Sneyers, Sciensano, Belgium
Julia Rodrigues, Executive Administrator, National Institute of Public Health, Cabo Verde
Vladyslav Zbanatskyi, Public Health Center, Ukraine
Dioniso Cumba, President INASA, Guinea Bissau
Hajer Skhiri, Director, National Health Institute, Tunisia
Conclusions from Concurrent Sessions: how IANPHI and WHO jointly support NPHIs in strengthening public health systems through partnerships
Moderator: Meerjady Sabrina Flora, Vice President, IANPHI
Jean-Claude Desenclos, Secretary General, IANPHI
Anne Bergh, Director for Global Health, Norwegian Institute of Public Health
Stella Shungong, Director, Country Health Emergency and IHR, World Health Organization
Neil Squires, Director of Global Public Health, Public Health England, United Kingdom
IANPHI Africa Regional Network Meeting
Chair: Natalie Mayet, Deputy Director, National Institute for Communicable Diseases, South Africa
IANPHI Europe Regional Network Meeting
Chair:
Quentin Sandifer, Execuive Director of Public Health Services, Public Health Wales, United Kingdom
IANPHI Asia Regional Network Meeting
Chair: George Fu Gao, Director General, Chinese Center for Disease Control and Prevention, China
IANPHI Latin America Regional Network Meeting
Chair: 
Felix Rosenberg, Director, Itabori Forum: politics, science and culture in health, Oswaldo Cruz Foundation, Brazil